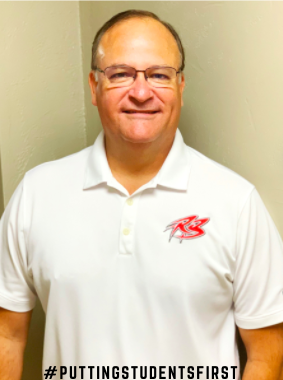 Thank you for taking time to visit our website. Rose Bud School District hopes our website is increasing communication with our students, parents, and community. Our hope is that this provides a great experience and resource for all who visit the site frequently.
Thank you for visiting our school district website. Here at RBSD we Put our Students First!! Our website is to help communicate with you and the Rose Bud community. My hope is we provide information to you and serves as a resource for all that visit the site.
If there is anything that I can do to help you or your students then please feel free to contact me. There are several ways to contact me if you have a question or concern. You can reach me through email at ablackwell@rbsd.k12.ar.us or use the messaging button "Contact Superintendent" available on our app. We can also be reached by phone at 501-556-5815.
Thank you,
Allen Blackwell
Superintendent RBSD
MEET THE SUPERINTENDENT
Mr. Allen Blackwell is married to Dee, for the last 31 years. They have two children, Ryan Blackwell and Kelsey Prothro. In addition, they have four grandchildren. Mr. Blackwell attended Southern Arkansas University, University of Arkansas at Fayetteville, and Henderson State University. He has spent many years in education including 14 years in the classroom, seven years as a high school principal, and he is coming to our district with 14 years of experience as a Superintendent.